Blue Hour at Jekyll Island, GA
Poems reach up like spindrift and the edge of driftwood along the beach, wanting! They derive from a slow and powerful root that we can't see. Stop the words now. Open the window in the center of your chest, and let the spirits fly in and out.  - Rumi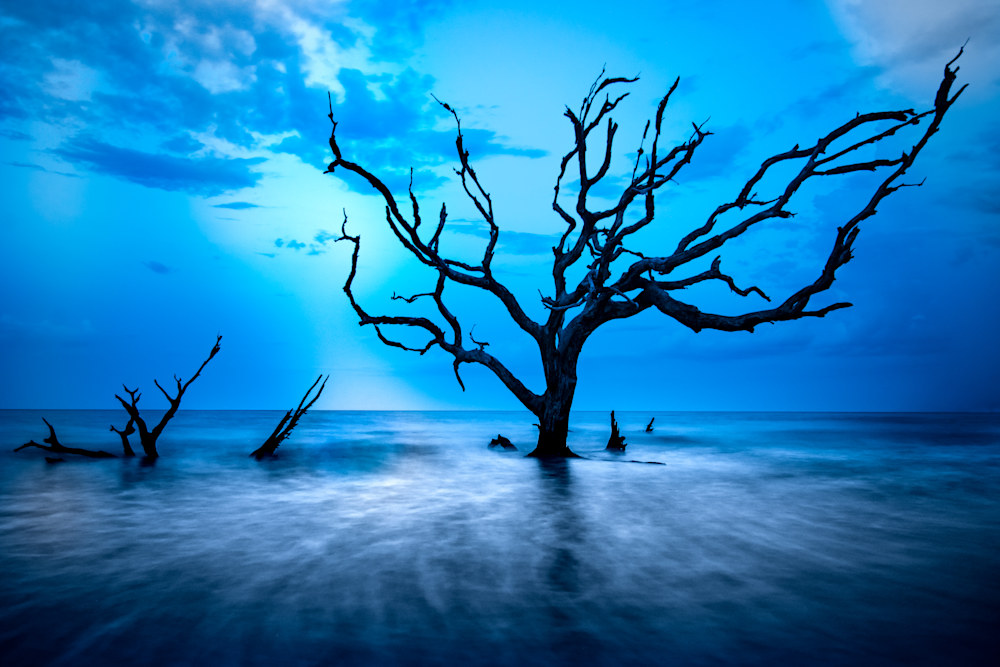 Tech Specs : Nikon D800 : 24mm Lens : ISO 200 : F5 @ 13.00 Seconds
This beach contains a landscape that I can only describe as something from another world. When I saw an article about this boneyard I knew that I had to go and capture its mystery. 
This place is called Driftwood Beach and it is located on Jekyll Island. It is the result of slow beach erosion from small waves that lap the island - and storm surge that swallows and kills the trees closest to shore. There are dozens of them like soldiers standing in shallow waters protecting the shore. 
What attracted me to this place is the struggle of these trees against nature. At some point it seemed that nature was working against me too - as I was set up in the shallows I was surrounded by tiny crabs climbing all over me and my equipment but the serenity of this place kept me going until I got the shot.
This was taken at Blue Hour - which is the hour after sunset - and it perfectly captures that eerie feeling you can find there among the dead trees, protruding limbs, and gnarled roots.
Interesting to note that this tree no longer stands in this spot - demonstrating the perfect impermanence of nature.